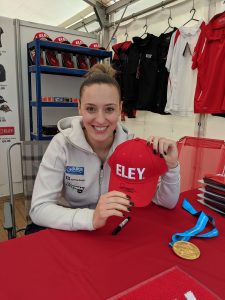 Anna Korakaki cap giveaway
Competition start and end date – 27/06/19 to 11/07/19
Get your hands on a signed ELEY cap from reigning Olympic pistol champion, Anna Korakaki.
Full Terms and Conditions |
Promoter: ELEY, Selco Way off First Avenue, Minworth Industrial Estate, Sutton Coldfield, B76 1BA
By taking part in this promotion, an entrant is agreeing to be bound by these terms and conditions. If an entrant does not agree with any part of these terms and conditions, they should not enter this promotion.
The promotion will run from 17:00pm (GMT) on 27/06/2019 until 17:00pm (GMT) on 11/07/19 ("promotion closing date") (the "promotion period"). A winner will be selected and announced the following day (12/07/19), no later than 12:00pm (GMT).
In order to enter, users will need to fill out the form on the competition page and answer the question 'In which discipline did Anna Korakaki win her Olympic Gold medal at the Rio Games in 2016? ' correctly.
The entry must be submitted during the promotion period to be eligible to win.
A winners will be selected at random from all correct and complete entries
The prize is a signed cap from Olympic medallist Anna Korakaki. No cash alternative is available.
The winner will be contacted by the promoter via the email address provided.
The winner must communicate with the promoter via email within 3 days of being informed that they have won a prize, and provide sufficient details to enable the promoter to arrange to deliver the prize to them.
The promoter's decision is final and binding and no correspondence will be entered into.
Twitter, Facebook and Instagram are independent social media platforms, and are not affiliated in any way to the Promoter. Entrants may familiarise themselves with Facebook's Terms of Service here and Instagram's Terms of Use here.
This promotion is in no way sponsored, endorsed or administered by, or associated with Twitter, Facebook or Instagram, and each entrant confirms that by entering this promotion they are releasing Facebook and/or Instagram from any liabilities associated with the promotion.
---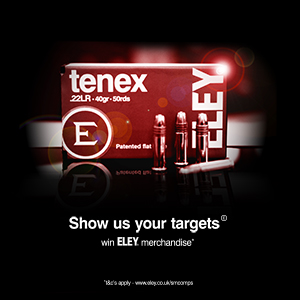 Show us your targets
Competition start and end date – 23/03/19 to 30-06-19
Send in pictures of your completed targets from your range visits this weekend. ELEY ammunition must be used. We will select a winner of ELEY merchandise from the entries on a Tuesday morning and post the entry across ELEY social media sites. The winner will be selected from a range of criteria including, accuracy, style, creativity, ELEY branding, range environment and groups of people enjoying the weekend at the range. Please use the hashtags #loveELEY and #teamELEY.
ELEY merchandise prizes are one of the following items selected at random: ELEY towel, ELEY mug, ELEY cap, ELEY key ring or ELEY water bottle.
Full Terms and Conditions |
Promoter: ELEY, Selco Way off First Avenue, Minworth Industrial Estate, Sutton Coldfield, B76 1BA
By taking part in this promotion, an entrant is agreeing to be bound by these terms and conditions. If an entrant does not agree with any part of these terms and conditions, they should not enter this promotion.
The promotion will run from 10am (GMT) on 23/03/2019 until 10am (GMT) on 30/06/19 ("promotion closing date") (the "promotion period") and is open to UK and Ireland residents over the age of 18. Winners will be selected and announced each Tuesday morning, no later than 12:00pm (GMT).
In order to enter, users will need to upload a photo of their target in the comment section of the ELEY competition post.
The entry photo must be uploaded during the promotion period to be eligible to win.
If the entrant deletes their content prior to the relevant closing date, then the submission will not be included in the promotion and will not be eligible to win. The promoter accepts no responsibility for any entries received after the relevant closing date.
Winners will be selected from a range of criteria including accuracy, style, creativity, ELEY branding, range environment and people enjoying the weekend at the range.
ELEY merchandise prizes include one of the following items selected at random: ELEY towel, ELEY mug, ELEY cap, ELEY key ring or ELEY water bottle.
The winner will be contacted by the promoter via a comment on their entry on Facebook or Instagram. The comment will prompt them to private/direct message the promoter on the relevant channel (Facebook or Instagram – whichever the entrant used to make their entry) which they must do so in order to finalise and confirm their win.
A winner must communicate with the promoter via private message or direct message (according to the channel on which they made their entry) within 72 hours of being informed that they have won a prize, and provide sufficient details to enable the promoter to arrange to deliver the prize to them. Please allow 14 – 21 days for delivery
The promoter's decision is final and binding and no correspondence will be entered into.
Facebook and Instagram are independent social media platforms, and are not affiliated in any way to the Promoter. Entrants may familiarise themselves with Facebook's Terms of Service here and Instagram's Terms of Use here.
This promotion is in no way sponsored, endorsed or administered by, or associated with Facebook or Instagram, and each entrant confirms that by entering this promotion they are releasing Facebook and/or Instagram from any liabilities associated with the promotion.
---