NEW MAJOR POWER FACTOR
Superior safety. Absolute accuracy and controllable recoil.
That's what you'll get with ELEY's brand new ELEY Action .38 super comp major round.
Designed and developed by the world's most respected sporting ammunition manufacturer, the new competition round promises to be a sure-fire hit amongst practical shooters.
ELEY have called on 190 years of ammunition quality control expertise to assemble the best components with a specific propellant to provide a safe and effective competition round for Open Division Competitors.
With ELEY Action .38 Super Comp Major, IPSC and USPSA competing athletes can rest assured they have the safest .38 Super Comp Major round on the market.
The round delivers reduced recoil for improved sight picture recovery, and its 'rimless' case loaded with a Round Nose copper metal jacketed 124grn bullet offers reliable magazine stacking and feeding.
The reference firearm has been the STI DVC Open 2011 competition handgun, designed and manufactured for use with Major Power Factor ammunition. ELEY USPSA load has been designed to achieve a power factor of 170 and the ELEY IPSC load to achieve a power factor of 165. Results may vary in individual firearms.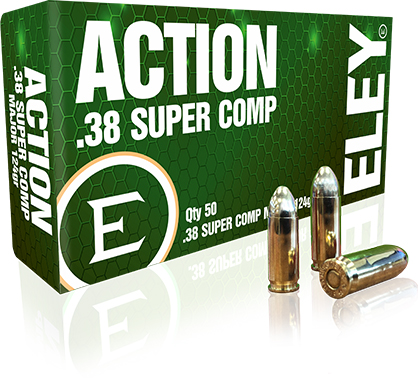 Key Features:
Round-Nose
Rimless
Copper Metal Jacket
Specifications:
Will achieve IPSC major power factor of 165-170 in a 5″ barrel. (Approx 1291ft/sec)
Used by:
Open Division Competitors
Call:
Tel. +44 (0) 121 313 4567
Fax. +44 (0) 121 313 4568
Mon – Thurs 08.30 – 17.00
Friday 08.30 – 13.30