Impressive start at home
The Sylvie Becaert stadium in the ski resort of Le Grand Bornand, France, welcomed the last IBU World Cup tour meeting of 2017. The venue is sheltered by the Aravis mountain range, and the wide tracks wind through the village packed with spectators.
All eyes were on the ELEY sponsored French Team. After a strong start to the season, fans expected an impressive performance at their home event. Yellow bib Fourcade would be challenging his chief rival this year – Johannes Boe from Norway. While the French women hoped to record their first win of the season.
The Women's Sprint competitors were first on the tracks and started in ideal conditions. Kuzmina from Slovakia showed her Olympic winning form to cross the line 40 seconds ahead of Dahlmeier from Germany. Ukrainian biathlete Semerenko finished in third.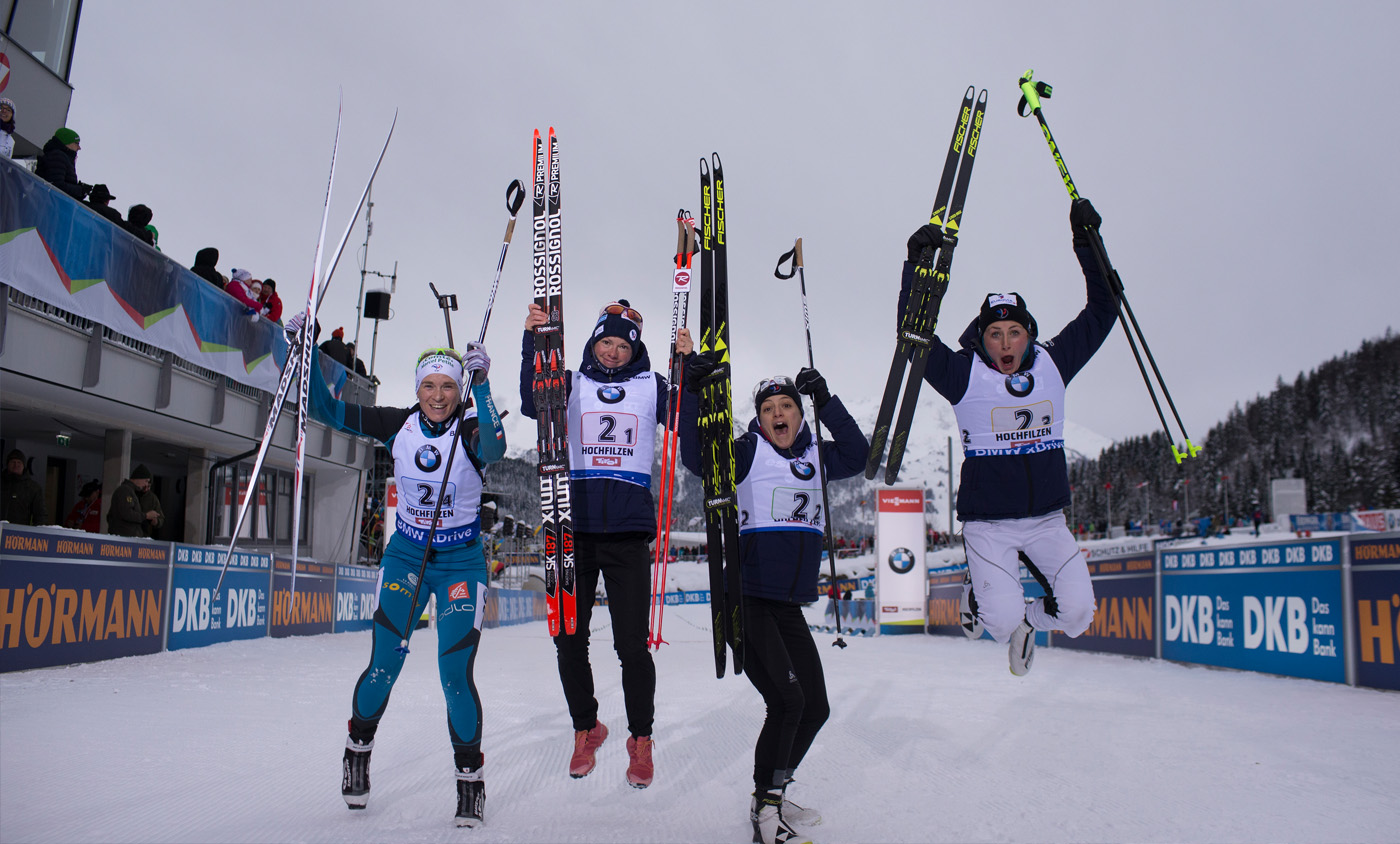 Boe cleaned the shooting sections and set a fast ski speed to win the Men's Sprint.
Fourcade and podium debutante Guigonnat also shot faultlessly to take the remaining medals for France. Schempp from Germany started early and recorded an impressive time, but Guigonnat excelled in the late starting group to claim his first ever World Cup medal.
Germany's Dahlmeier continued her rise to take the top step in the Women's Pursuit, trailed by Kuzmina and Vittozzi from Italy. Both Gold and Silver medallists missed their final shot, leading to a tense final act as both visited the penalty loop. However, Dahlmeier's superior speed assured the win.
Boe repeated his fast pace and clean shooting for victory in the Men's Sprint – his fourth successive Gold Medal. Fourcade was cheered by the massed crowds into second, and Russia's Shipulin took third and the team's first medal of the season.
The Mass Start matches ended the competition on a high for the French Team, winning Gold in both events. Braisaz shot clean to win her first Gold medal in the Women's event, trailed by Kryuko (BEL) and Dahlmeier. Penalties dictated the podium positions, as the favourites missed shots to drop down the leaderboard. Braisaz said of her win: "It's amazing to have a first victory at home. I am just so happy! It was just like a dream, but the reality is actually better".
Fourcade came into his element in the Men's Mass Start to close 2017 in style for the French Team. He dominated the field of 30 athletes to take the win over Boe and Lesser of Germany, with just 6 seconds separating the medallists. Rapid and accurate shooting saw Fourcade lead the pack to take the final Gold Medal of 2017 #GoTeamELEY.
The IBU World Cup returns after the winter break, arriving in Oberhof, Germany on January 4th 2018.